About The Author
It's not that life is so short, it's just that you're dead for so long. — anonymous
Jesse is, as he would say a pet loving type of guy since birth.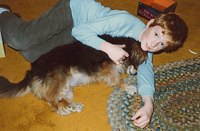 In 1985 though, Jesse had to a put childhood pet named Heidi to sleep because at the age of 9, she suffered from a severe case of Cushing?s disease. In 1990, Jesse had to put a cat down because although the cat wanted to live, he was literally too weak to do anything.
Instinctively, and for whatever reason, Jesse just knew that commercial pet food really wasn't doing his pets any benefits — and that commercial pet foods were most likely to blame for the illnesses and weaknesses of his pets.
In 1992 when Jesse got his now famous miniature schnauzer named Katherine DeBarnes, he began looking for alternative ways of feeding. He first began feeding what he believed was a natural and premium brand of dry dog food, but this was not what he was looking for.
One year later his search for the answer to feeding was over. He used his common sense and he began feeding homemade food based on the raw food diet for pets.
Amazingly, although it was initially Katherine who got Jesse interested in nutrition for dogs and cats, it was Morris, his 15½ year old cat who showed him the power of good nutrition. Morris, who was so weak that he needed to be carried up stairs, actually began walking up the stairs and he even took up jumping again within 1 month of eating homemade food!
Jesse notes, I'll never forget the night when I heard a thump on my window. What could it be I thought to myself? Then I heard another thump and then something fell to the ground. I heard a meow and then another thump on my window. I opened my curtains and saw Morris my Cat, sitting on the window sill waiting to come inside just as he had done in previous years. It appears to me, that since Morris had not jumped in years, that his initial jump to get onto the window sill was so powerful that when he hit the window he bounced backwards and fell to the ground! Morris soon got the hang of jumping again though. I'll never forget how much he simply enjoyed going outside at night like he did before and then jumping on my window sill when he wanted back in.
Sad to say though, as much as fresh food helped Morris, it was not enough to help Katy. Although a valiant effort was given to cure Katy and although she made many recoveries by taking herbal and homeopathic remedies, it was simply too late. In 1998, Katy succumbed to lymphoma.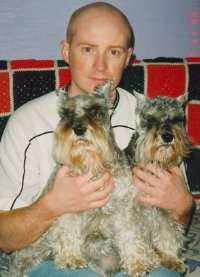 This has not deterred or decreased Jesse's knowledge of the benefit of homemade food. In fact, the exact opposite occurred. This tragic event helped Jesse realize the extreme importance of not only feeding a homemade natural diet, but to begin feeding as early as possible, to give the body extra support through herbal and other remedies and to encourage people to understand that pets today are not as healthy as they appear as generations of poor diets have dramatically affected the health of our pets.
Seeking no recognition, praise or adulations, Jesse now makes his very popular book Pets need Wholesome Food Also available for Internet users worldwide to read for free.
Jesse currently resides in the city of Cebu in the Philippines where he used to operate a cat sanctuary. Although Jesse no longer operates his cat sanctuary, two of the cats (Tiger and Chink) from his sanctuary still alive with him.
In addition to the 2 cats from the cat sanctuary, Jesse also has 2 rescued dogs (Karma and Prana) and 1 additional cat (Kriya), all of which have been rescued from the streets of the Philippines.
Animal Tales
If you want to read some articles that I wrote many years ago, check out my Animal Tales section or review some of the pages in Appendix B.