FloraZyme LP Pancreatic Derived Enzyme Supplement For Dogs and Cats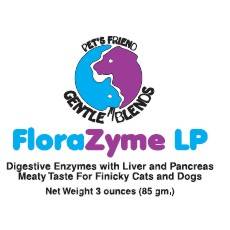 FloraZyme LP is a pancreatic derived enzyme supplement that contains 7 enzymes and 2 probiotic (friendly bacteria) strains to help improve the digestion of your dogs and cats.
FloraZyme LP contains both liver and pancreas hence the LP.
FloraZyme LP is recommended for use with every meal. FloraZyme LP is in powder form no need to open any capsules. Just sprinkle onto the food.
For optimum vitality of your pets, proper digestion of nutrients is essential. FloraZyme LP contains concentrated plant and pancreas enzymes to replace those lacking in pet foods. Friendly bacteria help maintain normal intestinal function. Pancreas and liver have essential vitamins, minerals and other nutrients.
Protease is an enzyme that helps digest proteins. Amylase is an enzyme that helps to digest sugars, starches, carbohydrates, etc. Lipase is an enzyme that helps digest fat.
Read my notes about digestive enzymes, the importance of digestive enzymes and friendly bacteria. You may also want to read my notes about trophotherapy.
Directions
Mix 1/2 teaspoon per cup of food in every meal. Double amount for first month and during times of physical stress. Allow 4 to 6 weeks for results. It may be necessary to introduce FloraZyme LP in small amounts and increase dose slowly.
1/2 Teaspoon Contains
1/2 teaspoon contains the following, in a base of 150 mg vacuumdried liver:
Fungal source protease
12,000 HUT
Fungal source amylase
4,000 DU
Fungal source lipase
50 LU
Fungal source cellulase
67 LU
Lactobacillus acidophilus
400 million
Bifidobacteria
200 million
Pancreas Concentrates 75 mg providing:
Protease
15,000 USP units
Personalized Service and Help
If you have questions, at any time, or if you need assistance, please send me an email: bowwow-!- @ -!-pet-grub.com (replace -!- @ -!- with @).
Bonus Supplements, International Supporters and Refund Information
8 Other Pet Supplements For Your Dogs and/or Cats