EggShellent Calcium — Calcium Supplement For Dogs and Cats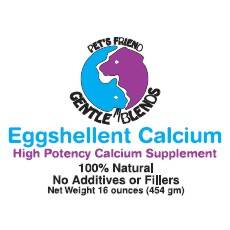 EggShellent Calcium is a 100% natural product with 0 additives and 0 fillers.
EggShellent Calcium is made in the USA.
EggShellent Calcium is a high potency bio–available calcium supplement powder made from ground eggshells. EggShellent Calcium is meant for those who are feeding a wholesome raw meat diet.
It is suggested that EggShellent Calcium be used with every meal.
EggShellent Calcium is exceptionally high in calcium while extremely low in phosphorus. A good calcium supplement is the single most important supplement you can provide your pet to help balance the calcium to phosphorus ratio within their body. If your budget allows you to only purchase one supplement, then this is it.
Not only does EggShellent Calcium provide calcium, but plenty of other minerals too. Ground egg shells are a concentrated source of calcium and so a little goes a long way. If you have access to enough egg shells you can actually make your own ground egg shell supplement. However, if you are not inclined to make this sort of supplement yourself or if you do not have access to enough egg shells, then this supplement will save you a lot of hassles and time.
One container of EggShellent Calcium is enough for approximately 92 pounds of meat (43 kilograms).
The egg shells used in EggShellent Calcium are pasteurized then ground in a chemical free process to an ultra fine powder to maximize absorption. The crystalline matrix of eggshell calcium carbonate provides much more surface area for digestion than calcium carbonate from inorganic sources. It also contains trace minerals for building strong teeth and bones.
It is vital that the proper balance of calcium and phosphorous exist in a pet's diet. Eggshellent Calcium may be used to provide this balance when feeding a home–prepared diet or as a supplements to other diets.
Eco–friendly manufacturing process in FDA regulated GMP facilities. Good for those who are looking for another form of calcium absorption.
Description
Eggshellent Calcium is the first animal origin alternative to bone as a calcium supplement. Eggshellent Calcium is made of 100% finely powdered eggshells. There are no fillers or additives, just pure eggshell powder providing 1900 mg of calcium per teaspoon.
Six advantages of Eggshellent Calcium over bone meal:
No concern of Mad Cow Disease
Higher in calcium
Smaller dose
Less interference with food taste and texture
Virtually no phosphorus
No heavy metal contamination problems
Suggested Doses
Weight of Meat

Ground Egg Shells
Weight of Meat

Ground Egg Shells
Weight of Meat

Ground Egg Shells
1 Jumbo Egg or 1 Large Egg
1/8 tsp
2 Jumbo Eggs or 2 Large Eggs
1/4 tsp
4 Jumbo Eggs or 4 Large Eggs
3/4 tsp
6 Jumbo Eggs or 6 Large Eggs
3/4 tsp
8 Jumbo Eggs or 8 Large Eggs
1 tsp
Personalized Service and Help
If you have questions, at any time, or if you need assistance, please send me an email: bowwow-!- @ -!-pet-grub.com (replace -!- @ -!- with @).
Bonus Supplements, International Supporters and Refund Information
8 Other Pet Supplements For Your Dogs and/or Cats