Herbal and Homeopathic Remedies for Dogs and Cats
Sick Pet Project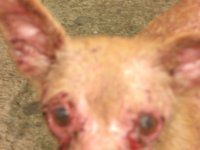 Meet Jumbo, the participant in The Sick Pet Project.
Bonus: Demodectic Mange — Before and After — a must view and the before and after pictures are truly amazing... images courtesy of of Gracie (:
Follow the story of my most recent rescue and get other news by following me on Facebook.
Catfucius Says
Cat like bath only when no water in bath.
Pictures of My Pets
You Tube Videos
I've created a series of YouTube videos that you can watch or listen to whenever you want.
My videos are meant to take you on a journey of thoughts to help maximize the clarity of your own thoughts and approach to how you care for and love your pets.