Herbal and Homeopathic Remedies for Dogs and Cats
Sick Pet Project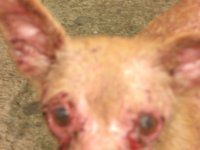 Meet Jumbo, the participant in The Sick Pet Project.
Bonus: Demodectic Mange — Before and After — a must view and the before and after pictures are truly amazing... images courtesy of of Gracie (:
Follow the story of my most recent rescue and get other news by following me on Facebook.
Body by Katherine
Doggonit, I'm Sexy and I Know It!
Doggonit, I'm sexy and I know it.
I may sound vain with that statement, but that's okay. You see, as I walk down the street on my daily walks, people stare at me. They stop me and say, you look so healthy, what do you eat?
I simply say, Katherine DeBarnes Favourite Food of course!
The reason why I look so sexy is because my eyes sparkle. Why do they sparkle you ask? Well, eating fresh, wholesome and natural food helps my body eliminates toxins much more easily. In turn, this helps eliminate any cloudiness in my eyes.
Eating fresh homemade food will help create a sexy and yet harmonious Body Design By Katherine!
Read more Body by Katherine
Pictures of My Pets
You Tube Videos
I've created a series of YouTube videos that you can watch or listen to whenever you want.
My videos are meant to take you on a journey of thoughts to help maximize the clarity of your own thoughts and approach to how you care for and love your pets.