Herbal and Homeopathic Remedies for Dogs and Cats
Sick Pet Project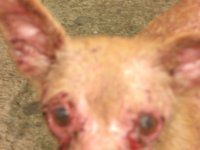 Meet Jumbo, the participant in The Sick Pet Project.
Bonus: Demodectic Mange — Before and After — a must view and the before and after pictures are truly amazing... images courtesy of of Gracie (:
Follow the story of my most recent rescue and get other news by following me on Facebook.
Body by Katherine
I Have A Radiant Body and Glowing Personality
Some say that I, Katherine DeBarnes, have a radiant body and a glowing personality.
Well, it's true, I do. You see, wholesome foods help provide my body with useful, raw fats and beneficial nutrients. These fats and nutrients help nourish my skin and put a shine on my coat.
Let's face it, we all want sex appeal and I ain't to shy to admit that I've got it.
Now, I love attention and when people pet me, the last thing I want is for them to be petting dry or oily skin. Some may think that I use artificial enhancers to create my shiny coat, but let me tell you something honey, I am all natural.
Eat fresh, wholesome and natural foods for a glowing Body Design By Katherine.
Read more Body by Katherine
Pictures of My Pets
You Tube Videos
I've created a series of YouTube videos that you can watch or listen to whenever you want.
My videos are meant to take you on a journey of thoughts to help maximize the clarity of your own thoughts and approach to how you care for and love your pets.